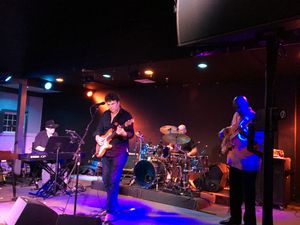 Bio
Bob Wolfman Band-Live
Breakaway (Danvers, MA)
Bob Wolfman is a legendary guitarist/vocalist in and around the Boston and New England area since the early nineteen eighties with his landmark band Elan Vital. Since the nineteen nineties, he has gained recognition as one of the leading guitarist/vocalists on the East Coast as a leader of his Bob Wolfman Band.  
An exciting and compelling performer with emotion, power, and soulfulness that will inspire even the most blase listeners, Bob Wolfman has chops and technical virtuosity to quiet even the most discerning critic.  Wolfman truly loves to play and sing his heart out.  He has fun on stage...and so do his audiences, always enjoying his explosive solos, but then he'll pull at their heartstrings and bring tears to their eyes with a quiet ballad.  Bob has performed and/or recorded with the likes of Larry Coryell, Chick Corea, Grover Washington Jr., Joe Beck, Robben Ford, Sonny Landreth, Victor Bailey, Tommy Campbell, Jimmy Earl, Victor Bailey, Toni Lynn Washington, Kenwood Dennard, Arlen Roth, and James Montgomery,  
A graduate of the prestigious Berklee College of Music, Bob earned a Performance Degree and thus rounded out his many years on the road touring and recording with a formal education in music. Bob is an extremely versatile musician, well versed in Blues, Rock, and Jazz.  
He has performed in 21 countries on four continents in every type of venue, ranging from coffee houses, nightclubs, colleges, and theaters to large concert halls and stadiums.  
Growing up in New York City, Bob had played at notable venues such as The Bottom Line, B.B.King's, Mikell's, Boomer's, Kenny Castaway's, too many more to list. Living in the Boston area since the late seventies, Bob has performed at the House of Blues, Sculler's, Johnny D's, Night Stage, Ryle's, Sandy's, Paul's Mall/Jazz Workshop, Jonathan Swift's, Jack's, Harper's Ferry, The Regent Theatre, The Hatch Shell On The Boston Esplanade, The FireHouse Center for The Arts, Berklee Performance Center, The Regatta Bar, and The Bull Run in Shirley, MA.  
A widely known and highly respected educator, Bob founded the famed Wolfman's School of Music in Boston, which served as a prep school for Berklee College of Music and other college music programs. Bob is also a prolific composer, producer, and bandleader.  
Bob Wolfman is currently performing with his own band ~ "BWB" - Bob Wolfman Band with Bruce Mattson on keys (Gregg Allman Band), and Barry Lit on Drums.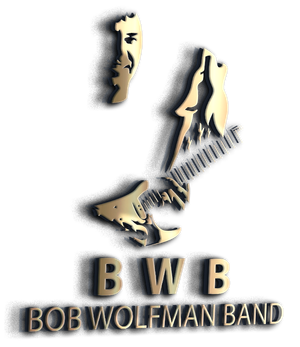 Professional Testimonials
Simply One of the Best Guitarists in the U.S. Today!"   
 - Boston Globe   
"A force to be reckoned with, Wolfman has blistering technique and plays with an intensity and refinement that speaks to his deep musicality."   
 - Joyce Kulhawik ~ Arts and Entertainment critic   
"I jammed with Wolfman last Summer and was really impressed with his playing!"   
 - Robben Ford   
"Bob Wolfman is a terrific guitarist, but more than that, he is a dynamic musician and an energetic, dedicated educator."   
 - Larry Coryell  ~  Founding Father & Pioneer of Jazz/Rock Fusion